This example from Maplesoft and dSPACE® illustrates how FMI technology can be used to connect a variety of modeling environments to create a complete vehicle simulation for real-time engine control unit (ECU) testing. An automatic transmission model created with MapleSim was integrated into a full car model in the dSPACE SCALEXIO® environment, where HIL testing was performed.
The automatic transmission system was modeled in MapleSim, the advanced system-level modeling and simulation tool from Maplesoft. The transmission model was developed using components from the MapleSim Driveline Library, which was designed with HIL applications in mind. The model included planetary gears and clutches for selecting the different gear ratios, a drivetrain, brakes, and torque converters, representing everything needed to assemble the transmission system.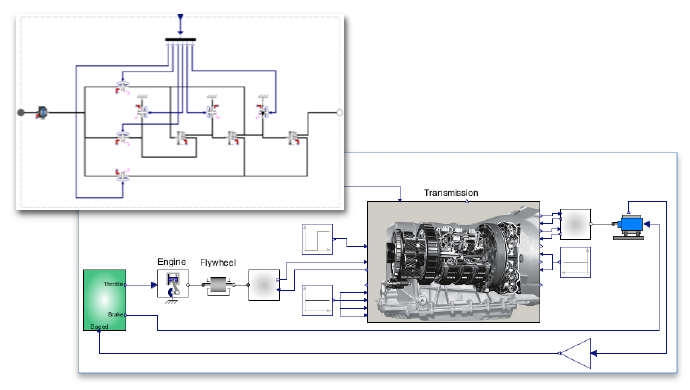 5-speed automatic transmission model developed in MapleSim
Once the transmission model was developed and tested in MapleSim, it was packaged up as an FMU using the MapleSim Connector for FMI. Next, the model was implemented inside the SCALEXIO environment, the latest hardware-in-the-loop simulator from dSPACE.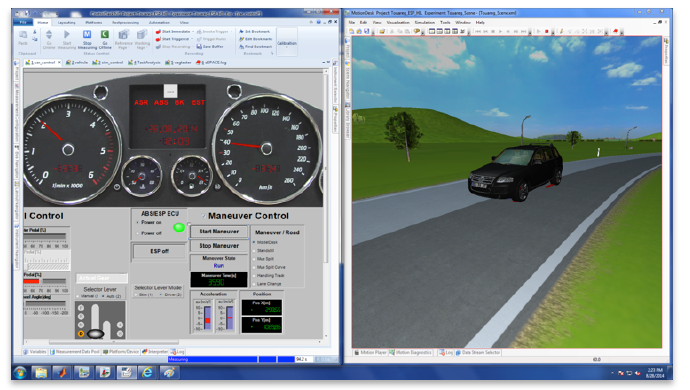 Full-vehicle model undergoing ECU hardware testing
In the SCALEXIO environment, the automatic transmission model from MapleSim was integrated with an engine model from Dymola® and an ASM vehicle dynamics model from dSPACE. The result was a full vehicle model for controls testing.
Using SCALEXIO to generate different test cases that represent different operating conditions and road scenarios, ECU hardware testing was then performed. The resulting FMU was able to achieve real-time capability, and run the simulation at full fidelity within the SCALEXIO environment. The execution time for the whole vehicle was around 300 microseconds, which was well within the 1ms time budget.
The real-time ECU testing carried out in this project was facilitated by the FMI standard, which enabled the exchange and integration of different models to leverage the specialized capabilities of multiple tools.
Contact Maplesoft to learn how MapleSim can be used for your projects